About Us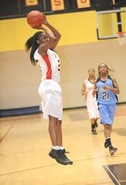 Welcome to Tink Butler's Next Sports Phenom
Next Sports Phenom (NSP) connects schools to athletes by providing the latest news, recruiting information, recaps of events and more about the talent in the District of Columbia, Maryland and Virginia (DMV). NSP works with student athletes and their parents to educate, encourage and promote DMV players so that they may be successful on and off the court.
We also provide news articles, live game coverage, player rankings, evaluations and projections and video footage of middle and high school players. NSP providing detailed feedback on prospective student athletes.
NSP supports and encourages middle school and high school athletes in sports by providing recognition for their efforts and offer healthy and productive interactive discussion via our blogs and message boards.
Tink Butler - Director
Player Rankings
Articles/Blogs
Player Evaluations
Tink Butler has been involved with men's and women's basketball as a coach or player on a variety of levels from college to recreation league for over 20 years. After going through the recruiting process dozens of times with multiple players and seeing a lack of attention placed in grassroots basketball Tink began to focus his attention on youth basketball. His goal was to help market sports to young kids in the DMV area and to educate them and their families on what it takes to play on the next level. For over 15 years Tink has been deeply involved in girls basketball. He has successfully and accurately evaluated and projected thousands of girls as early as 5th grade while following their progress through high school, college and some professional careers. Tink's daughters have both went on to have successful high school careers and went on the play college basketball at the highest level. Tink has helped hundreds of girls in some aspect to reach their goal of playing college basketball. After several years as the regional director of the adidas Jr. Phenom Camp, Tink founded Next Sports Phenom, LLC, in 2008 to cover middle school basketball. Today Next Sports Phenom covers girls basketball on all levels to help kids throughout the DMV reach their academic and athletic goals. Tink Butler is also the Chairman of the girls selection committee for the ESBC All-American Game.